The Bridgestone motorcycle tyre E-MAX is now available in Europe >>
Bridgestone stellt den neuen Exedra Max für schwere Cruiser vor. Der Reifen wird in 21 Größen für das Vorderrad und 20 Größen für das Hinterrad angeboten. Der Exedra Max ersetzt Stück für Stück die bestehende Exedra-Serie.
Bei der Entwicklung des Exedra Max übernahm Bridgestone die positiven Eigenschaften der bisherigen Exedra-Produkte, optimierte dabei jedoch die vier wichtigsten Eigenschaften: Laufleistung, Stabilität, Handling und die Haftung auf nasser sowie auf trockener Strasse. Das Resultat ist eine überzeugende Konstruktion, die den Fahrer geradezu zum komfortablen Reisen einlädt.
"Bridgestone hat weltweit viel Erfahrung mit der Technologie von Cruiser-Reifen. Für den Exedra Max haben wir dieses Wissen in einer Konstruktion angewandt, die den optimalen Komfort auf allen Arten von schweren Langstrecken-Motorrädern bietet," sagt Vincent van Houtte, Senior Manager Motorcycle Tyre Products, Bridgestone Europe.
Optimierte Konstruktionen und angepasste Gummimischungen
Der Exedra Max wird für die in Europa gängigen Cruiser in allen Größen erhältlich sein. Die modernen Gummimischungen sind an die jeweiligen Reifengrößen angepasst und optimieren dementsprechend die Laufleistung und das Fahrverhalten des jeweiligen Modells.
Nach umfangreichen Tests auf den verschiedensten Straßen rund um den Globus bietet das Profil des Exedra Max eine exzellente Stabilität und eine sichere Rückmeldung für den Fahrer. Niedrige Abrollgeräusche und hoher Komfort zeichnen den Exedra Max ebenfalls aus.
Die v-förmigen Profilrillen (a) reduzieren den Verschleiß, erhöhen aber gleichzeitig die Haftung. Die Rillen in der Mitte der Flanken (b) wurden entwickelt, um lineares Handling und ein sicheres Fahrgefühl auch beim Fahren mit zwei Personen zu liefern. Am Vorderrad verbessert die Mittelrille (c) den Grip auf nasser Strasse und das Kontaktgefühl. Die Mittelrille (d) am Hinterrad verbessert die Traktion bei gleichbleibend hoher Laufleistung.
Spezielle Kontur für hohen Komfort
Für Cruiser-Fahrer besonders wichtig: die Stabilität beim Geradeauslauf. Bridgestone hat für das Hinterrad eine spezielle Laufflächenkontur entwickelt, die dem Reifen die nötige Stabilität bei gleichzeitig hohem Fahrkomfort verleiht. Seine Gummimischung gewährleistet darüber hinaus hervorragenden Grip und hohe Stabilität auch in Kurven.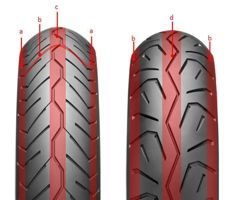 ---
Radial Sizes:

Front: 150/80R16 130/70R17 120/70ZR18 130/70ZR18 120/70ZR19
NEW 2015 - 120/70 ZR18 (59W) EXEDRA MAX

Rear: 180/70R16 200/60R16 240/55R16 170/60ZR17 190/60R17 200/50ZR17
Bias-Ply Sizes

Front: 130/90B16 150/80-16 120/90-17 110/90-18 100/90-19 110/90-19 80/90-21 90/90-21

Rear: 140/90-15 150/90B15 160/80-15 170/80B15 180/70-15 150/80B16 170/70B16
Alle verfügbaren Bridgestone Exeda Max finden Sie in Shop >>
2011 - New Bridgestone brand Exedra MAX cruiser motorcycle tyre sizes will soon be available to riders in the United States and Canada. Designed to offer reliable performance for cruising and touring, the Exedra MAX tire combines years of Bridgestone's original equipment cruiser development into one quality tire line.
Bridgestone originally debuted the Exedra line of original equipment tires in 1984. Many of these tires were developed for a particular model of motorcycle, taking into consideration tread pattern design, crown shape, rubber compounds and the knowledge to combine them into a unique tire application. Now Bridgestone has taken the best technical qualities from these original equipment tires and combined them into a tire specifically designed for reliable cruising and touring performance. Through tread pattern design, rubber compounds and belt package construction, Bridgestone tire engineers designed the Exedra MAX to offer a good balance of straight and long distance stability, riding comfort and controllability.
"The cruiser and touring segment is very important to the Bridgestone brand," said Bob Graham, BATO's senior product manager for motorcycle tires. "With the launch of the new sizes in Exedra-Max, we will continue to establish Bridgestone tires as one of the premier brands of motorcycle tires available in the American and Canadian markets."