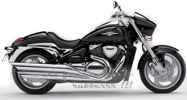 Le informazioni fornite in questa pagina sono fornite esclusivamente a titolo informativo. myNETmoto deve ritenersi pienamente scaricata da qualsiasi responsabilità verso gli acquirenti e / o terze parti in relazione, o come conseguenza, ad eventuali danni successivi al montaggio di pneumatici non autorizzati.
BRIDGESTONE E-MAX


Select only the good factors from "EXEDRA" and mix them in the best balance to provide 4 major performances, such as "Milage", "Stability of straight riding", "Handling", "Dry & Wet Grip&rdq [...]
(incl. IVA escl. spedizione)
AVON STORM


Storm 3D X-M - High performance plus extended mileage High performance plus extended mileage. The X-M version will deliver 15%-20% extra mileage compared to the current Storm range. Interlocking three dimensional points hidden in the sipes to improve [...]
BRIDGESTONE G 852 "G"


A newly developed Bridgestone motorcycle tires for heavy and powerful Tours - motorcycles. These new tires EXEDRA meet the high expectations of real Tour rider. The modern rubber compounds provide the liability and a very high mileage. To guara [...]
(incl. IVA escl. spedizione)